I just wanted to first of all share that my class has officially changed to a straight grade six!. As I'm sad to see my nice grade sevens go, I also know that I will enjoy being a straight six and this is the 2nd year I have ever taught a straight grade in my ten years of teaching, so I'm thrilled!
I still have to share with you about what I've done this past week, but I didn't take pictures so that will have to wait. What I am doing is working on planning my place value activities. I held off on starting place value in case I would be re-assigned to a new grade or have new kids come in, so we have done a lot of addition, subtraction, multiplication and division review. I'm glad we did - they needed it BIG TIME! It also gave them a chance to get used to using the interactive notebooks!
I'm joining
Mrs. Laffin's Laughings
for A Peek at My Week, focusing on place value at the grade six level!
So, if you haven't found Donna already, you will be thrilled when you hop on over to her blog! Donna, from the
Math Coaches
Corner
has given me (and everyone) a wonderful place value activity and lesson
FREE
that I will be using in my class this upcoming week. It is a lesson on
How to read large numbers by naming the commas (here)
and then the accompanying activity which is a
place value match up
(here).
Hop on over there to download it yourself. I downloaded the six digit numbers, but she also has seven and five digits if you need it too! Click on her button to visit her website or click on the links to the specific activities above! I'm also thinking I will grab her I Have Who Has Place Value Cards up to the hundred thousands from her TPT Store.
I also love this idea that I found on pinterest for helping students remember the place value. You grab pillboxes from the dollar store and label them with the place value letters. This idea comes from Erica over at Learning Specialist Materials.. I also bought her game Place Value Panic and am looking forward to playing it with the kids - again it comes with different levels so you can differentiate or use for grades other than grade six. You use the pillbox in the game!
Click
here
to visit the product!
The other thing I found was place value task cards -
FREE
! These place value cards came from a poster over at ProTeacher. I don't think this person has a blog, so I can't give them credit, but I have posted the task cards
here
to download from my google drive.
I'm also using this interactive activity from Runde's Room - I bought her Interactive Math Resource in the spring and love it. Here's the activity below - taken from her blog as a preview....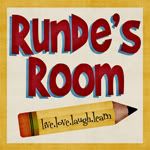 Visit
Runde's Room
to check out her interactive math resource for older students ;)
Here is another one that I found on pinterest that I love - which is place value cups.
I think maybe adding a cup with commas may help kids use this tool a bit better too! You can download the instructions on
Sue Downings TPT
store or download from my google drive
here
.
Okay...so that's a peek at some of the place value activities I have found to do in class this week! I hope some of them have been helpful to you if you are teaching the same concepts!
Stay tuned for some biodiversity freebies coming soon. Here's an article we are going to use in our shared reading this week about the Asian Carp invasion and it's threat to biodiversity! Click
here
to download it now! It is from Science News for Kids!
Hope you have a great time planning!