Ok, so I'm a new blogger, and as I have been hopping around (lol...seems appropriate) from blog to blog in this new world of teaching madness, I have come across this super cute linky from
Bunting, Books and Bainbridge
! I have to tell the story of how I became a blogger here to recognize a blog that I think it truly fantastic and inspiring, and that is
Runde's Room
.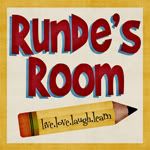 Jen Runde is absolutely amazing, so if you haven't checked out her blog, you need to!! I started this blogging journey by checking out Pinterest and from there, I found Jen Runde. I'm new to the upper grades and my little guy is now sleeping at least an hour at a time, so I have time to blog stock and look for inspiration for the upcoming school year. As posted before, I will be teaching grade 6 (with a few 7's) so I am in need of inspiration. Runde's Room provided this for me! Jen showcases a lot of pictures of her student's work as well as freebies. I LOVE that her posts are about her
teaching
and not just about buying her items on her TPT store, although I must admit after perusing her site, I have already bought her interactive math journal book. The reason that I bought it was because she posted so many great pictures of her math foldables and it left me questioning and wanting to find out more! This is the mark of a great blogger and for this reason, I am giving this award to
Runde's Room
! I also know that Jen is a mommy and I know how hard it is to balance school and home and have time to inspire others! So this is another reason that I believe Jen deserves the award. I'm hopeful one day I can offer the same inspiration to others that she has offered to me through her blogging! Thanks Jen! Please see her In
Interactive Math Journals,
I promise you won't be disappointed!